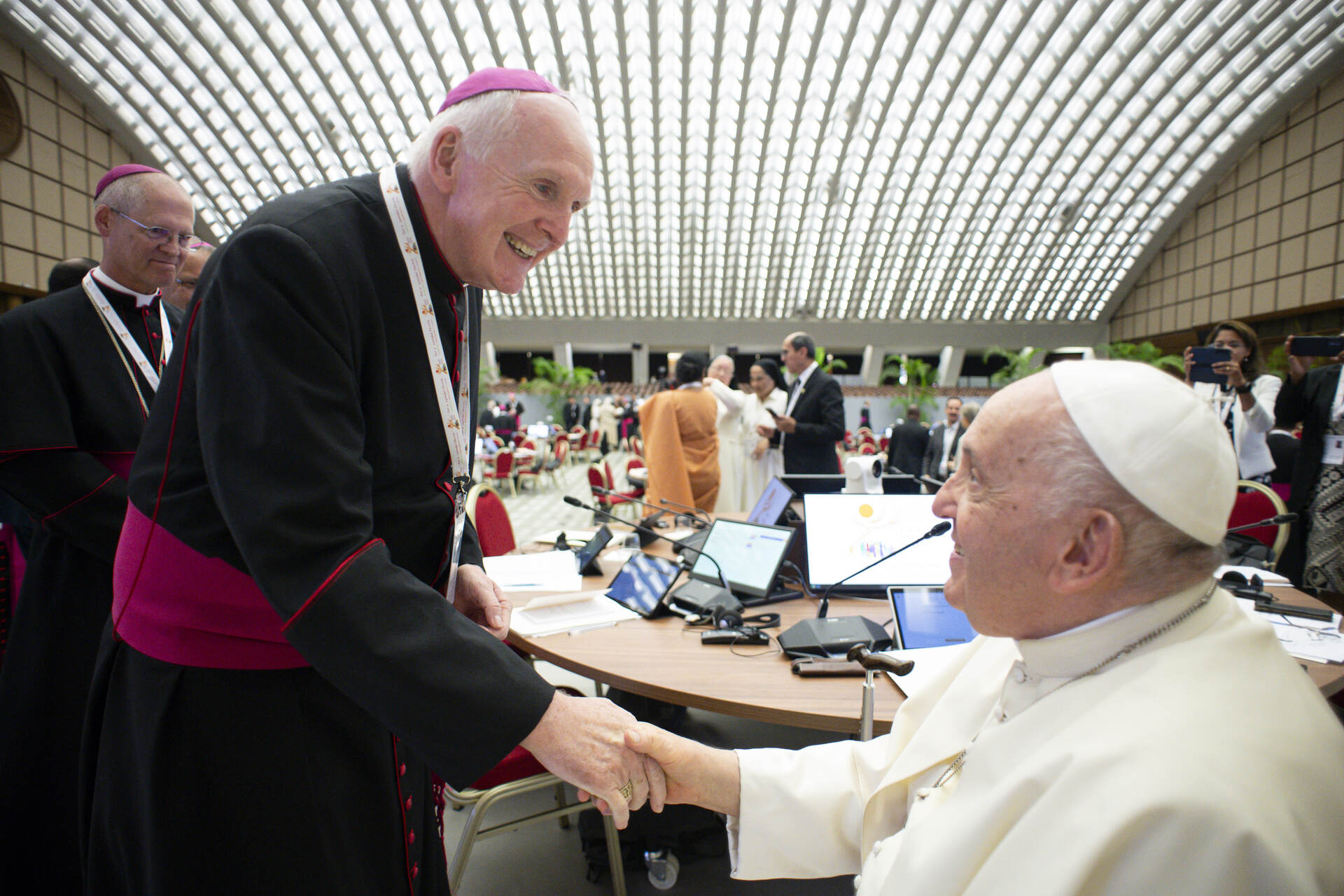 We must prepare for a future different to our past, says Bishop Leahy as 'Diocesan Overview' to be published next week
Overview sets out great work of today and the great opportunities and challenges of tomorrow
Its publication follows Rome Synod, attended by Bishop Leahy, which is charting future of Church globally
Diocesan Overview will reveal:
2,500 volunteers
150,000 baptised Catholics
60 parishes
365 marriages and 4,300 children celebrated either Communion or Confirmation in 2022
Monday 6 November 2023: Bishop of Limerick Brendan Leahy has said that the Diocese of Limerick must prepare for its own "new journey" that will require it to both face challenges and maximise opportunities for a brighter future.
Fresh from his return from Pope Francis' first session of Synod 2021-2024 in Rome, where he was one of just 365 global delegates attending the month-long gathering to help chart the future of the Church, Bishop Leahy said that we have to begin a conversation at home as to how we "journey together" too.
Addressing weekend mass at St. John's Cathedral and in a letter distributed across to parishes across the diocese, Bishop Leahy revealed that the Diocese has recently completed a 'Diocesan Overview' for Limerick, which will be published next weekend and illustrates clearly the incredible work being done but the opportunities and challenges that lie ahead too.
The overview revealed that there are some 2,500 volunteers helping out in various ways across the 60 parishes and 16 pastoral units of the Diocese served by 88 diocesan priests and 9 priests from abroad. Collectively, among other services, these provide for 436 masses weekly, 168 on weekends, as well as regular visitation of the sick and housebound, funerals and bereavement ministry, plus support of Limerick Social Services.
There are 150,000 baptised Catholics in the diocese, with 15,600 weekly mass goers. There are 102 primary schools under Catholic patronage and last year some 4,300 children celebrated either Communion for the First time or Confirmation. A total of 365 marriages were celebrated in churches in the Diocese last year, while 263 young people were involved were involved in youth programmes this year, with 107 school retreats taking place.
Said Bishop Leahy, "Synod is about journeying together. We are indeed, as a Diocese, on a journey, all of us. As a Diocese we, too, can look forward with hope to the next steps God wants us to take. We have much to be grateful for.
"We have recently carried out an Overview of our diocese, looking at the immense work that is done, where it is being done, the resources we need to continue this and plotting our way forward from that. The process has been a hugely positive one as it has reaffirmed to us where, as Missionaries of Christ, we are. It's about the great work, the love, the care but the numbers do support this.
"As we move ahead, we need to have conversations across the diocese about how best to arrange things for the future."
Confirming the publication and distribution of the Diocesan Overview to all parishes so that they can have a full picture of how things are in the Diocese, Bishop Leahy said, "I hope that a copy of the Diocesan Overview next week will get into the hands of many, not just those coming regularly to Church but also to family members and families whose children are presented for the sacraments. It is good for us to know the facts and figures of our Diocese so that we can make informed decisions."
Reflecting on his attendance at the Synod in Rome over the month of October, Bishop Leahy thanked people across the Diocese for their prayers and said that the gathering was an amazing event that he felt privileged to be involved in.
"I got an opportunity to greet the Pope and convey the best wishes and assurance of prayers on the part of the people of the Diocese of Limerick. The Pope attended many of the general sessions of our Synod and we also celebrated a wonderful ecumenical vigil with him, as well as various moments of prayer for migrants and for peace, remembering those living in war torn areas. We heard from people living in those countries at war and their testimony was moving."
The Synod, he said, will meet again next October to conclude its work and he has produced a summary, which is available at churches across the diocese, based on a report from Vatican News of the main points that emerged.
The Report offers reflections and proposals on topics such as the role of women and the laity, the ministry of bishops, priesthood and the diaconate, the importance of the poor and migrants, digital mission, ecumenism, and abuse.
Ends