News
May 16, 2016
Supporting Migrants in Limerick
---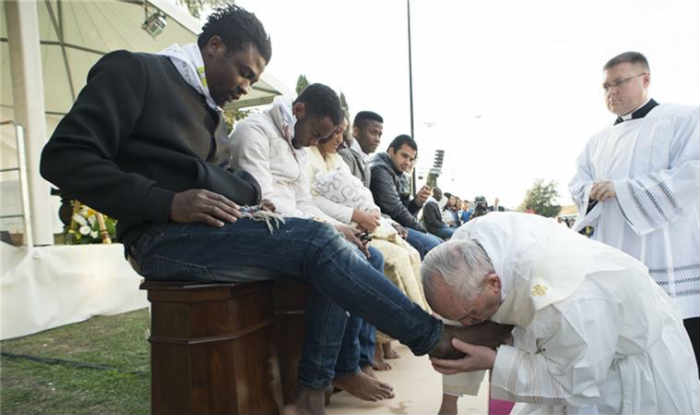 "Migrants are our brothers and sisters in search of a better life, far away from poverty, hunger, exploitation and the unjust distribution of the planet's resources which are meant to be equitably shared by all. Don't we all want a better, more decent and prosperous life to share with our loved ones?" Pope Francis 2016
In September 2015 we issued a number of resources for parishes who might like to
support migrants, especially refugees in their community
build awareness of the Christian calling to welcome and hospitality among parishioners
As Limerick prepares to WELCOME 100 Syrian refugees; Bishop Brendan LEAHY has reminded us of our call to welcome all migrants: those who have been here for some time, those arriving new and those with particular classifications or status. "We need to support migrants in whatever way we can and by our solidarity. We need to remember our own history of emigration...This is the very period where we could start preparing ourselves. I'd love to see a bit more coordination going on bet ween us all at this stage. As a migrant to Limerick myself, I have been very welcomed"
Here are some of those resources again with some updated material
General resources for a parish to welcome migrants
The presence of migrants and refugees seriously challenges the various societies which accept them. Those societies are faced with new situations which could create serious hardship unless they are suitably motivated, managed and regulated. How can we ensure that integration will become mutual enrichment, open up positive perspectives to communities, and prevent the danger of discrimination, racism, extreme nationalism or xenophobia? Pope Francis 2016

Become aware of the make up of your parish. THESE 2011 figures are a good start.
Doras Luimni have a useful 'Welcome to Limerick' book for new immigrants, as well as a variety of leaflets HERE that you could offer to new migrants in you parish. Read it yourself to become aware of the challenges migrants face.
Doras Luimni also have done some great work in Portlaoise parish welcoming families. THIS leaflet offers some ideas of what they do,  and THIS leaflet shows some of the events in this years social inclusion week.
Some simple starter ideas for parises are HERE Many simple involve already established groups, thinking a little differently.
Community and Belonging is one of the themes of the Synod - some resources that may be relevant to this conversation are included in THIS booklet - a welcoming group, parish visitation and hositality after Mass for instance.
Consider how you, as a parish, notice, welcome and include newcomers who come into your church and community
Liturgy and prayer
Greetings and dismissals at Mass in 10 languages HERE
Mass readings in several languages are available HERE
Candle lighting cards in various languages are available HERE
Prayer of unity in 5 languages HERE
See also the 2015 and 2014 migrant resouce packs above for prayers of the faithful, homilies etc
Polish blessing of food at Easter - an explanation, prayers and some translations HERE
What do we teach and live as Catholics?
Biblical revelation urges us to welcome the stranger; it tells us that in so doing, we open our doors to God, and that in the faces of others we see the face of Christ himself. Many institutions, associations, movements and groups, diocesan, national and international organizations are experiencing the wonder and joy of the feast of encounter, sharing and solidarity. They have heard the voice of Jesus Christ: "Behold, I stand at the door and knock" (Rev 3:20). Yet there continue to be debates about the conditions and limits to be set for the reception of migrants, not only on the level of national policies, but also in some parish communities whose traditional tranquillity seems to be threatened. Faced with these issues, how can the Church fail to be inspired by the example and words of Jesus Christ? The answer of the Gospel is mercy. Pope Francis 2016
These are simply a collection of possible resources for parishes. The main resource however is our own attitudes and hearts: our willingness to go out and be with people where they are at. As Christians, our hospitality does not begin at the door of our church or depend on the strangers request. We are called to recognise all children of God as beautiful, welcome and as sent by God to this time and place.
"May every parish, every religious community, every monastery, every sanctuary of Europe, take in one family" Pope Francis 2015
"This is the mission of the Church: to heal the wounds of the heart,
to open doors, to free people, to say that God is good,
God forgives all, God is the Father, God is affectionate, God always waits for us...
"It's true, we have to help and create organizations that help in this:
yes, because the Lord gives us the gifts for this.
But when we forget this mission, forget poverty, forget the apostolic zeal
and instead, place our hope in these human means, the Church
slowly slips into becoming an NGO, it becomes a beautiful organization:
Powerful, but not evangelical, because it lacks that spirit,
that poverty, that power to heal". (Pope Francis, Feb 2015)
---